Refer-a-Friend
Refer a friend to Blackship, and they will save money while you get points on the Rewards Plan!
The Blackship referral program lets you earn bonus points for each successful referral (see below for additional details) registered to your account!
Please note that the number of points earned and the discount received may change.
How it works:
On your Blackship profile page, click your avatar to bring up a drop-down menu, and you will see a green link.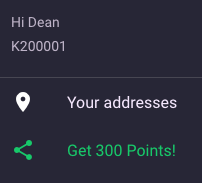 Click that link and you will be brought to the Refer-A-Friend page. Share this link with others to earn points and have them save on their first Blackship order!

If your friend forwards their first package with Blackship within 180 days of opening his or her account, they'll receive a discount on shipping, and you'll receive a Blackship Rewards points when the order is complete.
More details:
Referral links look just like a link to https://blackship.com except they have special code on the end to identify your account.  For example: https://blackship.com/?ref=PERRY
When someone clicks your link, you will get credit if they sign up any time in the next 90 days from that computer, even if they close the browser and come back later.
There is no limit to the number of friends you can refer, although we do reserve the right to adjust or change the referral program rules in the future.
Why did my referral bonus not show up?
There are a few possible reasons:
The referred customer did not sign up after clicking your referral link (and if they clicked multiple referral links they must click your link last).
The referred customer did not have their account approved.
Referral bonuses are only paid if the person you referred ships one or more packages to Blackship and completes shipping checkout.
It can take some time for payments to go out, and they may not arrive immediately.
We check for duplicate or fake accounts and don't pay out referral bonuses on these accounts. Duplicate or shared financials will cause disqualification.
If a referred user fails to complete the requirements to obtain a bonus within 180 days of opening his or her account, neither party will receive a bonus. 
Important Notice:
Unfortunately, we can't guarantee payout on every account you refer due to the limitations mentioned above and risk of fraud, but we make a good faith effort to do so whenever possible.
In addition, Blackship reserves the right to change the terms of the referral program at any time due to changing market conditions, risk of fraud, or other reasons. By participating in the referral program you acknowledge that receiving payouts is not guaranteed by Blackship.
---
---