What is Express Processing?
Express Processing puts your package at the front of the line, ensuring that it is consolidated and packed before all other packages. Express Processing is a great option for those who want to ensure urgent packages are shipped as quickly as possible. 
How to select Express Processing for shipping
In your Blackship profile, select the package(s) you wish to ship. After filling out customs information and the shipping address, you will be brought to Step 3: Shipping Options.


Continue with your shipment, and once it is complete, it will be given priority in Blackship's system so your package is taken care of as soon as possible.
Photo Request Express Processing
You can also request express processing for photo requests. This means your photo request is attended to as quickly as possible, before all other requests. This is great if you need information urgently, such as serial numbers or lottery codes.
On your Blackship profile page, click the Details of the package for which you want to make a Photo Request. Select Photo Request under the Special Requests section.

A window will appear where you can leave specific information about what type of photo you require. Be sure to click the Express Processing checkbox before you hit confirm!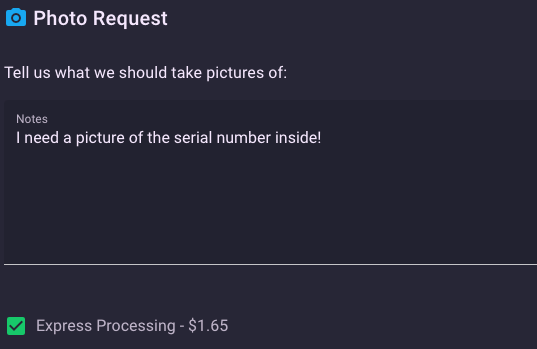 How much does Express Processing cost?
Pricing for Express Processing differs depending on your Blackship Rewards level. At the highest level, Express Processing is FREE!

---
---