What is Pick up from Blackship?
When to choose "Pick up from Blackship"?
Blackship allows pickup at our Yokohama warehouse (located near Motomachi-Chukagai Station) by appointment only. This is especially useful for those traveling to Japan that won't be able to ship to a Japanese address or their own home country, or to pick up concert tickets or items you require while traveling within Japan.
1. Pickup is charged at a flat fee of a minimum of $20 (converted to your selected currency).

2. Pickup at the Blackship office can only be completed by the Blackship account holder. We may request your ID when completing the pickup so please ensure to bring it with you when visiting us.
---
How to select pickup
Pickup is included as a shipping option when going through the normal shipping checkout. 
Step 1
First, declare customs as usual and select "Ship Package"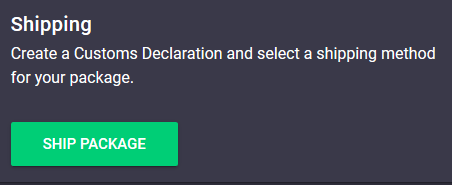 From here you review as normal and select your shipping address. Even if this location is overseas we will ignore the shipping address if you select "Pickup from Blackship office" at the next step.
Step 3
On the "Shipping Options" step select "Pickup from Blackship office".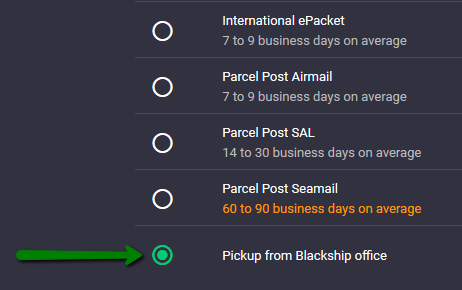 Step 4
You will then need to schedule a time to pickup your item. Please see below for more details.
---
Scheduling the pickup
Once you check out with pickup you must email us at help@blackship.com with several time options. To ensure speedy processing we recommend the following:
Arrange the pick up several days before the pick up date
Choose a one hour period that is best for you, but provide more than one option just in case
Do not select weekends or public holidays
Choose a time between 10 am and 7 pm
Please find the detail about how to go to our facility here: Address
---
---